I took the train from Leeds to Aberdeen, as we pulled out of Edinburgh, I realised this was the farthest North I had ever been. Living in Durham, Aberdeen and Dundee are often the final destination of all trains heading north, so they had certainly been on the map for me for a while. I was excited to be heading to the 'true North', if such a concept even exists.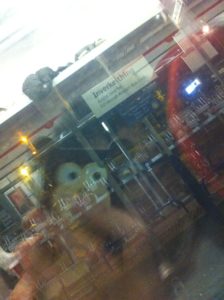 As the train lurched out of Edinburgh and onto Inverkeithing, I felt a shift in the order of things. A new train guard with an unusual voice delivered regular announcements offering both reassurance and concern in equal measure. The train seemed to be going downhill, unfortunately it was dark by this point so I had to rely on my imagination to fill in the blanks as we crossed the forth bridge. Instructions from the train guard increased in intensity, the focus was mainly on opening the doors which I had thought, up until York at least, were opening by themselves. Seat reservations were also no longer relevant and the train became about 15% less populated. Tiredness and hunger kicked in, I texted Johanna with my new mantra 'pint and a sandwich', it was the only thing that would see me through.
On arrival, Johanna sent me the co-ordinates for Wagleys, I left the station and wandered over passing up the enticing promise of a cocktail or glass of bubbly at the nearby Carmelite hotel. I ordered a pint at the bar and was amazed to encounter a plate of half-eaten sandwiches, Johanna's choice for our first rendezvous was flawless. I asked about the advertised toasties, sadly all sold out.  Under the friendly gaze of the bar tender, a lone male approached and asked 'Do you come here often?' before kindly offering me one of the sandwiches. At this point, I had underestimated the acoustic impact of the UK's no.1 macho city.
Aberdeen lies in a region described as the 'circumpolar North' which to the east extends to the Nordic and Baltic countries, to the west to Iceland, Greenland, Canada and Alaska and to the north, Russia and Siberia. These specific co-ordinates, we were later informed by our agent on the ground L, offer particular climatic, environmental, geopolitical and cultural conditions for the future. L works in many circles and in one of these a true revelation had taken place; the map of the UK had been thrown on the ground and spun upside down showing the north as the gateway to the UK. A few days later over dinner in Bistro Verde, I saw the true potential of such a move as a two year old threw their jacket on the ground, spun it upside down, inserted his arms and walked out with the coat perfectly in place. This is the future, I thought to myself and even the toddlers are in on it.